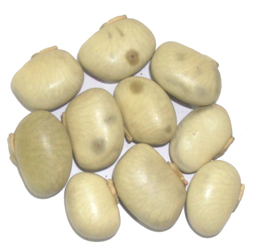 Bengali Name : Alkushi
Chinese Name : Ci mao li dou, Chi huseh teng
English Name : Cow-Itch Plant, Cowhage, Velvet Bean
French Name : Pois à gratter, Cadjuet, Pois velus
German Name : Juckbohne, Juckfasel
Gujarati Name : Kavach, Kaucha
Hindi Name : Kaunch, Konch, Kavach, Kevanch
Kannada Name : Nasugunne
Latin name : Mucuna pruriens Baker.
Marathi Name : Khajkuhilee, Kavach
Punjabi Name : Koonch, Kawanch
Sanskrit Name : Kapikachchhu, Atmagupta
Urdu Name : Konch
Description : The seeds are anthelmintic, good aphrodisiac, astringent, nervine tonic, nutritive, rejuvenative and also spermatogenetic. It is used in the treatment of premature ejaculation, spermatorrhoea and diseases of the genitourinary system. Is a prophylactic against oligospermia, ovulation in women, etc. and is useful in increasing sperm count and improving their quality. It prevents male and female sterility. Also useful in erectile dysfunction and sexual debility and increases testosterone levels. Also prescribed in diseases of the nervous system, facial paralysis and hemiplegia. The herb increases the level of dopamine, scrotonin and other catecholamines in the brain and body to the extent that it induces mood elevation and relieves depression.
The seeds due to the presence of L-DOPA (yield 1.5%)and nicotine are in great demand. L-DOPA is a neurotransmitter precursor, and is effective for relief in Parkinson's disease. In a 1995 study, Hp-200 (derived from the Ayurvedic therapeutic agent Mucuna prurien seed powder, as opposed to isolated active ingredients) was tested on 60 patients suffering from Parkinson's disease for 12 weeks. A control sample of 26 patients were given synthetic treatments. The results were monitored with the Unified Parkinson's Disease Rating Scale. The study showed that the Ayurvedic treatment was effective and only caused minor side effects.
The herb is also known to help the body build lean muscle and to break down unwanted fat and hence it is often used by athletes and body builders in sports medicine.
Recommended Dosage : 3 to 5 g powder of dried mature seeds.
Contraindication : This herb is contraindicated during pregnancy. It has shown to lower blood sugar. Those with hypoglycemia or diabetes should only use this herb under the supervision of a qualified healthcare practitioner. Cowhage is contraindicated in combination with M.A.O. inhibitors. It has androgenic activity, increasing testosterone levels. Persons with excessive androgen syndromes should avoid using Cowhage.