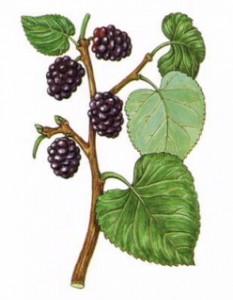 Arabic Name : Toot Aswad
Bengali Name : Toot
English Name : Black Mulberry
Gujarati Name : Shetoot
Hindi Name : Toot
Kannada Name : Tuti, Tool
Latin name : Morus nigra Linn.
Marathi Name : Sehtoot
Persian Name : Toot Siah
Sanskrit Name : Toola, Tood, Toot
Urdu Name : Kala Shehtoot
Description : Black mulberries contain some of the most powerful and effective antioxidants, Anthocyanins and Flavonoids, which help to improve blood circulation, neutralize free radicals, improve the body's immune system and give the fruit its darkred to purple color.
Mulberry contains fiber, calcium, phosphorus, potassium, magnesium, carbohydrates, iron band proteins essential to one's good health.
Benefits of Black Mulberry :
Black Mulberry helps in containing hypertension.
Regular intake of Mulberry strengthens body parts like liver and kidney.
Black Mulberry is helpful in treating constipation.
Black Mulberry is instrumental in eliminating abdominal distention.
Intake of mulberry juice after any surgery is restorative.
Black Mulberry is helpful in recuperating after long-time sickness.
Use of Black Mulberry keeps low cholesterol level in the body.Black Mulberry can suppress mutagenesis of carcinogens.
Black Mulberry is helpful in reducing level of blood sugar.
Regular use of Black Mulberry enhances appetite, and also improves the ability for digesting and assimilating.
Recommended Dosage : Fresh Fruit : 20 ml to 50 ml
Contraindication : This has no known cotraindications.