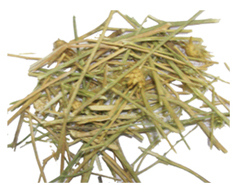 Bengali Name : Siyal Kanta
English Name : Camel's Thistle
German Name : Til Kanto
Hindi Name : Brahm Dandi, Untakatara
Latin name : Tricholepis angustifolia DC.
Sanskrit Name : Ajadandi, Brahmadandi, Kantapatraphala
Urdu Name : Brahm Dandi
Description : It is alterative, aphrodisiac, aromatic, bitter, diuretic and a nerve tonic. Useful in blood impurities like itch, boils, pimples and skin disorders. Also useful in spermatorrhoea and nocturnal emission.
Recommended Dosage : 5 to 7 g powder of dried herb.
Contraindication : This herb is not recommended during pregnancy or lactation.