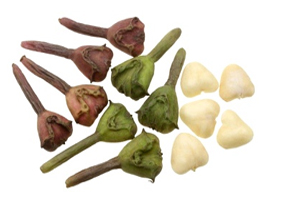 Bengali Name : Paniphal, Singhade, Jalfal
English Name : Indian Water Chestnut, Indian Caltrop
French Name : Noix aquatique Corniole
German Name : Wassernuss, Wasserkastanie
Gujarati Name : Shingoda, Singoda
Hindi Name : Singhara, Singhada
Latin name : Trapa bispinosa Roxb.
Marathi Name : Shingoda
Punjabi Name : Singhade, Gaunaree
Sanskrit Name : Sringataka, Jalaphala
Urdu Name : Singhara
Description : The fruit is antipyretic, appetiser, aphrodisiac, astringent, constipating, cooling, diuretic, haemostatic, nutritive, sweet and tonic. Rich in calcium and is useful in general debility, attenuated semen, oligospermia and sexual debility. Also useful in leucorrhiea, diarrhoea, dysentery, intermittent fevers, haemorrhages, haemoptysis, fatigue, erectile dysfunction, dysuria, polyuria and other urinary disorders.
Recommended Dosage : 5 to 10 g powder of dried fruit.
Contraindication : This fruit has no known warnings or contraindications.