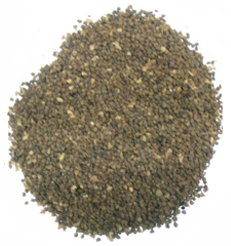 Bengali Name : Bedele
Chinese Name : Ke dong
English Name : Country Mallow, Flannel Weed, Indian Ephedra
German Name : Sandmalve, Indische Malve
Gujarati Name : Baldana, Bal, Bala
Hindi Name : Bariar, Bariyal, Khirenti, Khareti
Kannada Name : Kisangi, Hettuti Gida
Latin name : Sida cordifolia Linn.
Marathi Name : Chikana, Tupkaria
Persian Name : Beejband Siah
Punjabi Name : Kharehti, Simak
Sanskrit Name : Beejband, Bala, Jayanti
Urdu Name : Beejband Siah
Description : It has been used in folk medicine for the treatment of inflammation, asthma, bronchitis, and nasal congestion.
Because the leaves of Sida cordifolia contain small amounts of the alkaloid ephedrine (0.8% to 1.2%) and pseudo-ephedrine many nutritional companies have included it as a weight loss product as is controls metabolism in the human body and is a popular supplement for many who go to the gym as it is said to increase energy levels.
Indications : Asthma, Bronchitis, Common Cold, Cough, Flu, Obesity, Oedema, Persistent Infection due to Low Immunity and Wheezing.
Contraindications: Do not use this product if using MAO inhibitor medication (Anti-Depressants), or have high blood pressure, heart disease, thyroid or Prostrate conditions. Not suitable for pregnant or lactating mothers.
Side Effects : There are no known side effects.
Dosage : Take 1 capsule twice daily after meals with water. Allow several weeks for benefits. The use of natural products provides progressive but long-lasting results.