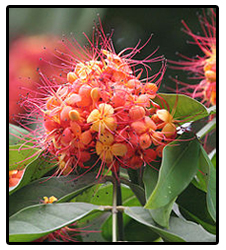 Bengali Name : Ashoka
English Name : Ashoka Tree
French Name : Arbre d'Ashoka
German Name : Saraka
Gujarati Name : Ashoka
Hindi Name : Ashoka, Anganapriya
Kannada Name : Ashokadamara, Asokamara, Kankalimara
Latin name : Saraca indica Linn.
Marathi Name : Ashok
Punjabi Name : Asok
Sanskrit Name : Asoka, Sita Ashok, Hemapushpa, Kankeli
Ashoka – Saraca indica is an indigenous plant commonly known as ashok in Hindi. The study explicated that, Ashoka (Saraca indica) is very useful in treating the disorders of female sex as reported in literatures. It is also having remarkable action on other parts of the body as well, like mind, head, eyes, nose, stomach, abdomen, rectum, respiratory system, chest, back and extremities. The bark, which is the drug, is reported to have a stimulating effect on the endometrium and ovarian tissue and is useful in menorrhagia due to uterine fibroids, in leucorrhoea and in internal bleeding. It is useful in all cases of uterine bleeding.
Benefits of Ashoka :
Helps to reduce abnormal vaginal discharge
Helps to support uterine function
Helps to reduce the risk of vaginal infections
Helps to boost sex drive
Helps to normalize menstrual cycle and reduce menstrual pain and discomfort
Recommended Dosage : 1 to 2 g powder of bark.
Contraindication : This herb is not recommended during pregnancy or lactation.