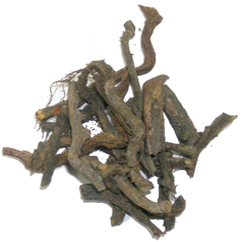 Arabic Name : Basbayeej, Sakeeraghli, Adraas al-kalb, Shutur 'Alee, Bisfayej
Chinese Name : Ba jiao lian
English Name : Polypody, Wall Fern, Oak Fern, Brake Root, Rock Brake
French Name : Réglisse-des-bois
German Name : Engelsüß, Tüpfelfarn
Hindi Name : Khankali, Khangali
Latin name : Polypodium vulgare Linn.
Persian Name : Bispay, Baspayek
Urdu Name : Bisfayej
Description : It is alterative, anthelmintic, cholagogue, decongestant, demulcent, expectorant, hepatic, pectoral and tonic. Polypody stimulates bile secretion and is a gentle laxative. Traditionally, polypody has been used in herbal medicine as a treatment for hepatitis and jaundice, and as a remedy for indigestion and loss of appetite. Polypody makes a safe treatment for constipation in children. The rhizome is also expectorant, having a supportive and mildly stimulating effect on the respiratory system. It may be taken for the relief of congestion, bronchitis, pleurisy, dry irritable coughs and catarrh.
Recommended Dosage : 10 to 15 g powder of dried rhizome.
Contraindication : This herb has no known warnings or contraindications.