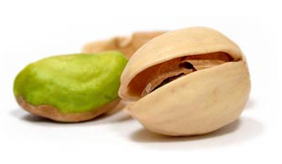 Arabic Name : Fistiq
Bengali Name : Pista, Gatela
Chinese Name : Hu chen tzu
English Name : Pistachio, Green Almond
French Name : Pistachier
German Name : Echte Pistazie, Pimpernuss, Pipernuss, Pistakinuss
Hindi Name : Pista
Kashmiri Name : Pista
Latin name : Pistacia vera Linn.
Marathi Name : Pista
Persian Name : Pistah
Sanskrit Name : Nikochak
Urdu Name : Pista
Description : The kernels are considered to be cardiac tonic, cerebral tonic, demulcent, digestive, sedative, spermatogenic, stomachic and tonic and contain a melting fatty oil. Useful in debility.
Recommended Dosage : 3 to 5 g fruit.
Contraindication : Persons allergic to tree nuts should not use Pistachio.