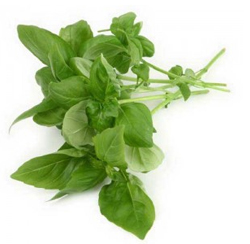 Arabic Name : Raihaan, Baadharooj, Habaq
Bengali Name : Tulasi
English Name : Holy Basil, Sacred Basil, St. Joseph's Wort, Sweet Basil
French Name : Basilic Saint
German Name : Indisches Basilikum, Tulsi-Basilikum
Gujarati Name : Tulasi, Tulsi
Hindi Name : Tulsi
Kannada Name : Kamakasturi, Ramakasturi, Tulasi
Kashmiri Name : Babri Beol (Seeds)
Latin name : Ocimum sanctum Linn.
Marathi Name : Tulasi
Persian Name : Baadhrooj, Baadhrooz, Nazbo
Punjabi Name : Tulasi
Sanskrit Name : Tulasi, Ajaka, Arjaka, Parnasa, Krishnamul
Urdu Name : Raihan, Tulsi, Franjmushk
Description :Tulsi also known as Ocimum sanctum, or holy basil, has been used medicinally in India for at least a few thousand years. Due to its reputation of improving a wide-spectrum of ailments, conditions and symptoms, tulsi is also nicknamed the "Queen of Herbs" in most regions of India. Tulsi displays many medicinal properties and is commonly used as a natural antioxidant, antimicrobial, anti-inflammatory and adaptogen. Adaptogens are substances that have the ability to reduce stress levels by boosting immune response and balancing hormone levels.
Benefits of Raihan (Tulsi) :
Supports your healthy vision
Helps bolster your immune system
May even give your stamina a boost
Helps promote your healthy metabolism
Provides you with skeletal and joint support
Balances the health of your digestive system
Helps promote your respiratory system health
Aids you in supporting normal cholesterol levels
Helps you alleviate minor discomfort and irritation
Gives you antioxidant protection against free radicals
Helps you maintain blood sugar levels in the normal range
Provides you with a calming effect and relief from occasional stress