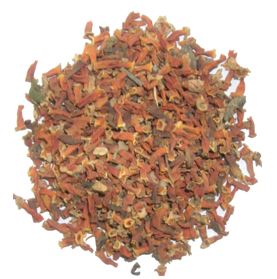 Bengali Name : Sheoli, Singhar, Shephalika
English Name : Night Jasmine, Night -flowering Jasmine
French Name : Jasmin de nuit
German Name : Trauerbaum, Nachtjasmin
Gujarati Name : Harshangar
Hindi Name : Haar, Harsinghar, Harsingar
Kannada Name : Parijat
Latin name : Nyctanthes arbor-tristis Linn.
Marathi Name : Partak, Khurasali, Parijatak
Persian Name : Gulkamah
Punjabi Name : Kuri, Laduri, Pakar
Sanskrit Name : Parijataka, Parijata, Sephalika, Rajanikasa, Harshringar
Urdu Name : Harsinghar
Description : The flowers are anthelmintic, antioxidant, astringent to bowels, bitter, carminative, cholagogue, hepatoprotective, immunostimulant, laxative and stomachic. Useful in haemorrhoids.
Benefits of Night Jasmine (Harsinghar)
Night Jasmine (Harsinghar) is antibacterial, anti-inflammatory, anthelmintic, expectorant, bitter, tonic, febrifuge and a mild purgative.
The flowers are bitter astringent, ophthalmic, stomachic and carminative.
Night Jasmine is very useful in treating constipation in children.
The leaves are used in Ayurvedic medicine, to treat sciatica, arthritis, fevers, rheumatism and various painful conditions.
Its leaves are also blend into a paste and used in skin related troubles, especially ringworm.
The fresh leaves are boiled in mustard oil and used externally for treating ringworm.
The seeds are crushed and the aqueous paste is applied externally on the piles. They are also useful in treating baldness, scurvy and affections of the scalp.
The decoction of night jasmine flowers is used in treating gout.
Night Jasmine (Harsinghar) is also used to treat anxiety, restlessness, headaches, gastritis, hepatitis, diarrhea, vertigo and dysmenorrhoea.
Recommended Dosage : 3 to 5 g powder of flowers.
Contraindication : This herb has no known warnings or contraindications.