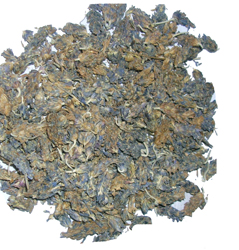 Arabic Name : Ustookhoodoos, Halhaal, Sunbul al-ahaaniya, Arshameesa, Arshaneesa, Washa'i al-shaikh
Bengali Name : Tuntuna
English Name : Arabian Lavender, French Lavender
French Name : Stoechas Arabique, Lavande
German Name : Schopflavendel, Welscher Lavendel
Gujarati Name : Lavendara No Phul
Hindi Name : Dharu
Kashmiri Name : Kale weouth
Latin name : Lavandula stoechas Linn.
Persian Name : Ustkhuddus, Jarub Dimagh
Urdu Name : Ustkhuddus
Description : The flowers are adaptogen, analgesic, antiasthmatic, antibacterial, antidepressant, antiflatulent, antifungal, antirheumatic, antiseptic, antispasmodic, aromatic, bitter, carminative, cholagogue, demulcent, digestive, mildly diuretic, emmenagogue, expectorant, nervine, good stimulant, stomachic, mildly sedative and tonic. They are used for anxiety, depression and nervous tension and stress. They are also used as a tension headache, sinus and migraine remedy. The flowers have been nicknamed "The Broom of Brain" as they are said to sweep away all 'Kafa' impurities, removes obstruction, strengthen brain power, expel brain crudities and clarifies the intellect.
Lavender has a regulating effect on the nervous system with its balancing and harmonising nature. Being an adaptogen, it can have a restorative effect in cases of listlessness or weakness, but conversely has a calming effect on hyperactivity or agitation. It is one of the best stress relievers known and also helps with insomnia. Soothes indigestion and colic, and relieves wind and bloating.
The oil from the flowers is used for has been used for headaches, sore muscles or tense muscles, arthritis and rheumatism.
Recommended Dosage : 5 to 7 g powder of flowers.
Contraindication : Avoid high doses during pregnancy because it is a uterine stimulant. Also avoid the use of this herb during breastfeeding.