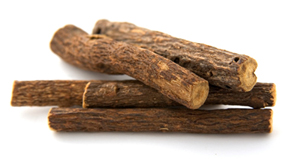 Arabic Name : Soos, 'Irq Soos, Asl al-soos
Bengali Name : Jashtimadhu, Jaishbomadhu
English Name : Liquorice, Licorice, Sweet Root, Sweet Wood, Black Sugar
French Name : Bois doux
German Name : Süßholz, Gemeines Süßholz, Lakritze
Gujarati Name : Jethimadha, Jethimard, Jethimadh
Hindi Name : Mulethi, Mulathi, Meethi Lakdi, Jethimadh
Kannada Name : Yestamadu, Madhuka, Yeshtamadhu, Atimadhura
Latin name : Glycyrrhiza glabra Linn.
Marathi Name : Jesthamadh
Persian Name : Bekhe Mehak
Sanskrit Name : Yashti-madhu, Madhuka
Urdu Name : Mulethi, Aslussoos
Fenugreek (Mulethi) contains natural expectorant properties ideal for treating sinus and lung congestion, and loosens and removes excess mucus and phlegm. Fenugreek (Mulethi) is also an excellent source of selenium, an anti-radiant which helps the body utilize oxygen. Fenugreek (Mulethi) is also a recommended remedy for all manner of gynaecological problems, including infection of the uterus and inflammation of the vagina and vulva. Also useful in leucorrhoea, painful menstruation, pain in the back and for minimising the symptoms of menopause. Lowers fever and detoxifies the body.
Fenugreek (Mulethi) is also used in colic, flatulence, gastritis, dysentery, diarrhoea, dyspepsia with loss of appetite, chronic cough, bronchitis, dropsy, upper respiratory catarrh, fever and enlargement of the liver and spleen. Also used to induce childbirth and to increase breast-milk flow in nursing mothers, for which it is perfectly safe, and also has a reputation of stimulating development of the breasts. One of its constituent, diosgenin, is employed to make synthetic estrogen, and it is believed to be the activity of this constituent that encourages the growth of the breast tissue. Normalises a women's system after delivery.
Indications: Abdominal Distension, Allergies, Anaemia, Anorexia, Atherosclerosis, Backache, Baldness, Blackheads, Bronchitis, Catarrh, Chilblains, Colic, Colitis, Congestion, Constipation, Convalescence, Cough, Crohn
Recommended Dosage : 3 to 7 g powder of root.