Arabic Name : Teen Ahmaq
Bengali Name : Jajnadumur, Jagnadumur
Chinese Name : Ju guo rong
English Name : Cluster Fig, Redwood Fig, Country Fig
French Name : Figue De Faisceau
German Name : Traubenfeige
Gujarati Name : Umbaro, Umerdo, Umardo, Umarado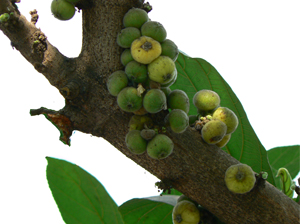 Hindi Name : Doomar, Gular
Kannada Name : Attihanninamara, Oudumbara, Athimara, Attigida
Kashmiri Name : Rumbal
Latin name : Ficus racemosa Linn.
Marathi Name : Atti, Gular, Umbar, Audumbara
Persian Name : Anjeera Ahmaq
Punjabi Name : Kath Gular, Gular
Sanskrit Name : Udumbara, Sadaphala
Urdu Name : Post Gular (Root Bark)
Description : The root-bark is antidiabetic, antidysentery, astringent, diuretic, exhilarant, expectorant, refrigerant, stomachic, styptic and vermifuge. It is a good remedy for excessive appetite. Also used in diabetes, leucoderma and menorrhagia.
Recommended Dosage : Bark : 5 to 7 g powder of dried bark; Fruit : 2 to 4 Pc
Contraindication : This herb has no known warnings or contraindications.