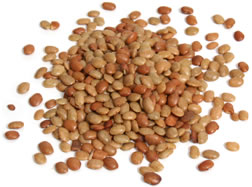 Arabic Name : Habbul Qillat, Habbul Qulth
Bengali Name : Kulatta, Kalaya, Kulti
Chinese Name : Bian dou
English Name : Horse-Gram
French Name : Dolic-a-deux Fleurs
German Name : Zwillingsblume
Gujarati Name : Kalthi, Kulthi
Hindi Name : Kulathi, Kulti, Kurthi
Kannada Name : Huruli, Hurali, Hulge
Kashmiri Name : Krothe
Latin name : Dolichos biflorus Linn.
Marathi Name : Kulthi, Hulga, Kuleeth
Persian Name : Sange Shikan
Sanskrit Name : Kulatha, Kulastha, Khalakula, Vardhipatraka
Urdu Name : Kulthi
Description : Seeds are antipyretic, astringent, deobstruent, diuretic, emmenagogue, laxative, lithotriptic, stomachic and tonic. Employed to reduce obesity and is also useful in kidney stone and oedema. Given to females during parturition to promote discharge of the lochia. Also used in leucorrhoea and menstrual derangements.
Kulthi is known by different names all over the world, it is called, Kollu in South India, Cowpea in English, Kulti in Hindi, Habbul Kulth in Arabic, Kulatha Kalai in Sanskrit, Bian Dou in Chinese, Bonnavista Bean and also Hyacinth Bean. The health benefits of horse gram are being recognized light in the western world recently but has been known for its medicinal purposes by Indian Ayurvedic Vaidyas since centuries.
It is known for its excellent diuretic and astringent.
Ayurveda uses horse gram to treat a variety of conditions ranging from rheumatism to worm removal, treating Conjuctivitis and piles.
Another great benefit of horse gram is its use in extracting phlegm. When suffering with cough, phlegm is a hard thing to get rid of. Taking horse gram water can eliminate the phlegm and give relief.
Taking horse gram powder in a little bit of water regularly, helps in treating and controlling skin rashesand boils.
Horse gram liquid is also used to regulate fever.
It has phenols which helps in reducing weight
Horse gram also helps in lowering cholesterol levels
Lipids extracted from horse gram have shown to help with peptic ulcer in an study related rats.
It also helps in reducing flatulence
Recommended Dosage : 3 to 5 g powder of dry seeds.
Contraindication : This herb has no known warnings or contraindications.