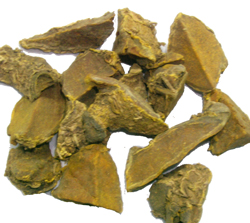 Bengali Name : Aam Aadaa
English Name : Mango Ginger, Mango Turmeric
French Name : Gingembre mangue
German Name : Safranwurz
Gujarati Name : Aambaa Haldar
Hindi Name : Amba Haldi, Ama Haldi, Kapoorhaldi, Ban Haldi
Kannada Name : Ambarasini, Huli Arseen,
Latin name : Curcuma amada Roxb.
Marathi Name : Aambe Halad, Ambaa Halad
Persian Name : Darchob
Punjabi Name : Ambiya Haldi
Sanskrit Name : Karpura-haridra
Urdu Name : Amba Haldi
Description : The rhizome is antiinflammatory, aromatic, astringent, bitter, blood purifier, carminative, cooling, sedative and stomachic. Used externally as an application for bruises, sprains, pain of the joints, etc.
Recommended Dosage : 2 to 4 g powder of dried rhizome.
Contraindication : This herb has no known warnings or contraindications when used topically.