Arabic Name : Arz Himyalaayaa, Diyoodaar
Bengali Name : Devdaroo
English Name : Himalayan Cedar, Deodar
French Name : Déodar
German Name : Himalaya-Zeder
Gujarati Name : Devdar, Teliyo Devdar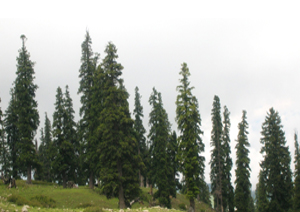 Hindi Name : Deodar
Kannada Name : Deevdar
Kashmiri Name : Deodar
Latin name : Cedrus deodara Roxb.
Marathi Name : Devdar
Persian Name : Deodar
Punjabi Name : Diyar, Dewdar, Kelu
Sanskrit Name : Devadaru
Urdu Name : Deodar
Description : The oil has antiinflammatory, antifungal, antiseptic, astringent, depurative, diaphoretic, diuretic, expectorant and sedative properties. It is also applied in skin diseases, ulcers, wounds, catarrh and chest infections. Inhalation has been used for bronchitis, tuberculosis, anxiety and associated tension.
Recommended Dosage : Dried Heart Wood : 3 to 6 g powder; Oil : For external application only.
Contraindication : Avoid during pregnancy. Undiluted essential oils in their purest state are extremely potent, and should be blended with a carrier oil or other medium prior to use directly on the skin, as the essential oil may cause irritation.