Cleome viscosa Linn.
Arabic Name : Qalb
Bengali Name : Tilpanni, Hurhuria
English Name : Wild or Dog Mustard, Tickweed, Spider Flower, Sticky Cleome
French Name : Herbe Puante, Cléome visqueuse
German Name : Spinnenpflanze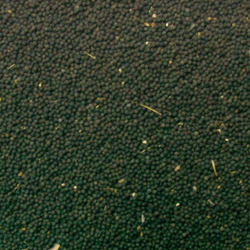 Gujarati Name : Tilvani, Tinmani
Hindi Name : Jangli Hurhur, Hulhul, Hurhur
Kannada Name : Kadusarive
Latin name : Cleome viscosa Linn.
Marathi Name : Tilvan
Persian Name : Sange Sabuyah
Punjabi Name : Bugra
Sanskrit Name : Arkakanta, Karnaspota
Urdu Name : Hulhul
Description : Seeds are carminative, anthelmintic and antiseptic. Applied as a poultice, it is useful in skin irritations and vitiligo.
Recommended Dosage : 1 to 2 g powder of seeds.
Contraindication : This herb has no known warnings or contraindications.